Feature in Idaho Press Tribune
11/23/2009
Earlier this year I was featured in an Idaho Press Tribune Magazine called Portraits of Idaho Cavalcade 2009 . Nine others were also included: Kristin Armstrong, Bethine Church, Lawrence Wasden, Jake Plummer, Rosalie Sorrels, Ana Maria Schachtell, Ian and Chrissy Johnson, Sylvia Hunt and Ralph Smead.
I'm humbled and grateful for this opportunity that allows readers to understand my heart. This article is accurate and non biased. Some have only heard the negative and untrue things about me (that's just part of being a public figure), so it's nice to have a piece in print that's true and balanced.
You might learn some new things about me too!

Brandi Swindell
Local activist a voice for the voicelessBy Alisa Angelakis
Brandi Swindell, a fourth-generation Idahoan, has done pro-life work for 10 years and raised awareness of human rights and religious abuses around the globe.
She has fought at home and abroad for the preborn, the plight of the Chinese, religious freedoms and more, saying she stands up for those who can't stand up for themselves.
In 1999 Swindell co-founded Generation Life, a national pro-life ministry and went on to start two more nonprofit organizations: Keep the Commandments Coalition and Stanton Healthcare, one of Swindell's proudest accomplishments.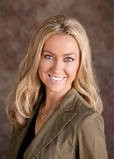 An event in the summer of 1997 changed Brandi Swindell's life forever – one of her roommates had an abortion. "I prayed, pleaded and counseled her that she wouldn't move forward with this decision," Swindell said. "In spite of all these efforts, she had an abortion. It was heartbreaking, and she was never the same person. I had always been pro-life because it was taking the life of the baby, but what I realized is that it wasn't good for the woman – that women deserve better than abortion." Swindell researched abortion and discovered many women regret their decision and feel exploited.
At the time Swindell worked in Yellowstone National Park. She was struck by what she saw as hypocrisy. "In Yellowstone Park, one was not even allowed to pick flowers or disturb the beauty of God's creation," she said. "In fact, you could be punished and fined if you were caught violating any of the park's regulations concerning destroying the natural habitat or disturbing the animals. Yet a person with full protection of the law could destroy the most beautiful of all God's creation – an innocent child in the womb. I was shocked and stunned that America's greatest natural treasure – unborn children – had no legal protection at all."
Swindell set out to change that. In 1999 she founded Generation Life, a national pro-life ministry. She went on to start two more nonprofit organizations and raise awareness of human rights and religious abuses around the globe. She has fought at home and abroad for the preborn, the plight of the Chinese, religious freedom and more. She stands up for those she says who can't stand up for themselves.
But Swindell can pose a threat to those with opposing views. And her commitment has caused her to be arrested about five times, over freedom of speech, civil rights, human rights and social justice issues. "I think it's important people understand I am in no way an anarchist," she says. "I believe in civil, peaceful disobedience and follow the example of Martin Luther King Jr. My heart is to serve in a capacity to make a difference." Swindell, who has never been married or had children, says she does not cast judgment or condemn a woman who has an abortion. "Because I oppose abortion does not mean that I oppose the woman who has an abortion," she said.
Church Ministry
Tri Robinson, Swindell's pastor at Vineyard Christian Fellowship of Boise, said Swindell has never wavered in her commitments. "She's a passionate young woman with a cause and she's uncompromising," Robinson said. "I think she's kind of amazing for her generation.
To her critics, he says, "Why would you criticize anyone who would sacrifice so much and believe in what she does so much?" Swindell is genuine and articulate, according to Robinson, who has known the activist for 10 years. "She knows what she believes and can't be pushed around much," he said.
Swindell runs Stanton Healthcare, a nonprofit pregnancy resource center that reaches out to women with unexpected or crisis pregnancies. It operates out of one of the church's buildings.
The church provides Swindell with a free workspace and telephone but she raises the funds to run the program. "We believe in what she's doing," Robinson said. "It's really valuable and wonderful, and if you hear the testimony of the gals she's helped, it just tears you up. Amazing things have happened because of this."
"My heart is to serve in a capacity to make a difference."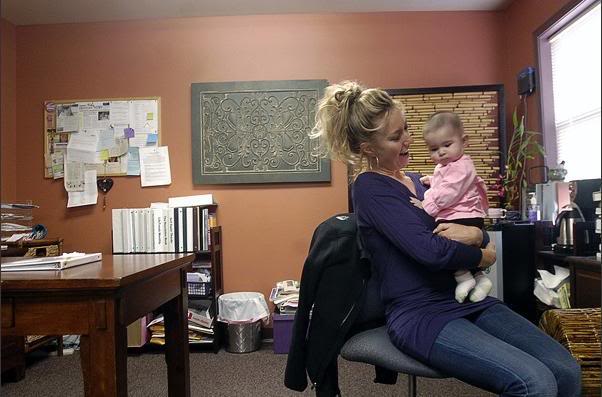 Brandi Swindell holds baby Leia during a follow-up appointment at Stanton Healthcare, a nonprofit pregnancy resource center, founded by Swindell in 2006.
One of the young women grateful for Stanton Healthcare is Jessica. At eight weeks of pregnancy, Jessica came to Stanton on the advice of a friend. She was scheduled for an abortion the next day, but it was not what she wanted. She said Planned Parenthood had done a quick ultrasound, but she was unable to hear a heartbeat or see the baby very clearly. "I wanted to see her and hear her," Jessica explained.
The 24-year-old single mom now juggles college, a full-time job and raising her baby. She said Stanton Healthcare helped her gain the confidence she needed to do what she wanted to do. Swindell said the babies and their mothers are very close to her heart. "We hope we can be a blessing to these girls, but what happens is they become blessings to us," she said.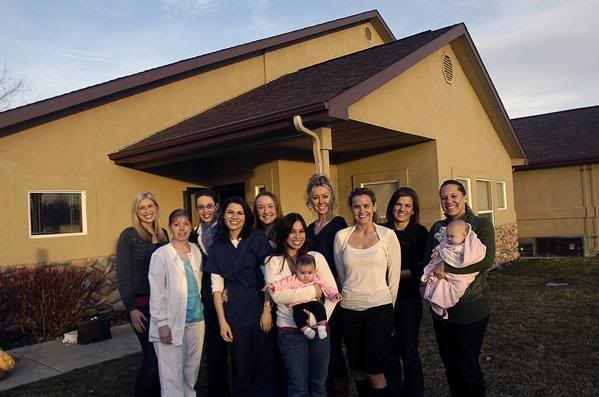 Swindell and Stanton Healthcare clients, employees and volunteers outside the Boise clinic.
Religious freedom for all
Swindell doesn't see herself as a right-wing fanatic. "That's what I'm trying to get away from," she says. "But as we're seeing things ramp up with religious bigotry against Christians and seeing the exploitation of women and children through abortion … looking at all these significant issues around the nation, we have to get involved. At the end of the day, my heart is to advocate for positive change that will help people."
Patrick Mahoney, who has advocated for change alongside Swindell, is a Presbyterian minister and director of the Christian Defense Coalition in Washington D.C. He said his family has known Swindell both professionally and personally for many years. Mahoney and his wife are on the Stanton Healthcare board and Mahoney's daughters have worked with Swindell on different projects. "Brandi is one of the most energetic, principled and committed people I know," Mahoney said. "She has impeccable standards and a commitment to integrity."
Swindell has said she fights for the religious freedom of all people. Mahoney has seen that in action. "She's fighting for religious views and protection of people who don't even share her religious views," he said.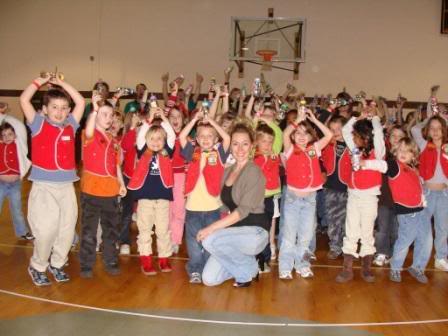 The Vineyard Awana's children helped raise $1,000 to support Stanton Healthcare through a baby bottle drive.
"I traveled to Beijing, China, to stand in solidarity with persecuted people of faith, political dissidents, victims of forced abortion, and human trafficking and all whose human rights have been violated. I went to be a voice for those who have no voice.I went because I asked myself, 'What if it was me?'"Human rights in China
In summer 2008 Swindell, Mahoney and Philadelphia Christian leader Michael McMonangle traveled to Beijing, China, to spotlight the persecution of the Chinese by the government. "It was one of the most moving and touching moments in my life," Swindell said. "To be a voice … to know that it meant something to the people there who were being persecuted." The trip took place just days before the start of the 2008 Summer Olympic Games. The trip was planned for a time when many eyes would be on China. Her group, not wanting to interfere with the Olympics or appear in opposition to the games, was scheduled to fly home Aug. 8, the Olympics' opening day.
"We didn't do things in a manner that would do any harm but would create awareness to call for the Chinese government to stop persecuting their people," Swindell said. "We celebrate the Olympics and the unity of coming together." Swindell, Mahoney and McMonangle held a banner in Tiananmen Square that read, "Jesus Christ is King," in English and in Chinese, and they also placed flowers in memory of the Chinese students and others who lost their lives during the Tiananmen Square protests of 1989. "They murdered thousands of students and crushed this movement for freedom and democracy," Mahoney said.
On Aug. 6, after praying, speaking about the atrocities being done to the Chinese and laying flowers in honor of the dead, Swindell, Mahoney and McMonangle were escorted off the square by Chinese authorities. The next day when they returned to the square, Chinese police arrested all three. Swindell said after being detained for nine hours, authorities deported the trio. During that nine hours, the Americans said they were threatened and interrogated. "An official decision was made by the Chinese government leaders that the three of us must leave China that day," Mahoney said. "Government officials were demanding we pay our airfare back to America. We said we a had done nothing wrong and we would not pay, so they came in and began to yell at us and said, 'If you do not pay your airfare back to America, you are going to jail for a long time.' "
Swindell said it would have cost $10,000 to $12,000 to purchase airfare and fly home that day. And they already had plane tickets to fly home the next day. "This is part of the tactic the Chinese government always uses," she said. "Like women who are going in for forced abortions or people who have house churches – they'll say, 'We'll let you pay a fine and you can have the baby' or 'stay out of jail,' but it will be a huge fine that is like a year's salary that they can't afford."
Swindell remembers sitting in the back of a van believing she was being taken to a Chinese prison. "We're totally praying and we realized that this might be the direction of the airport. It wasn't until we were on the plane that we knew we were going home, and they had also threatened to send us to Hong Kong or Thailand with nothing – no IDs or passports. We weren't 100 percent sure until we landed in America. I've never been so happy to be in L.A. But I was broken, too. I've left part of my heart in China." Some local media criticized Swindell's trip to China and called it a publicity stunt. Mahoney said he received praise from the media in D.C. and was stunned to see Swindell treated so critically by many in her home state.
"I don't think sacrificing your life for others and facing months in a Chinese prison is a publicity stunt," he said. "There's been so much good that came out of our trip to China. They should have been celebrating and proud that someone from Idaho went to the Olympics and stood up for human rights abuses. You don't want to think of Idaho as some sort of Neanderthal state that can't handle a strong woman stepping out into the public square. Here in D.C. she's asked to speak. People around the country love and respect her."
Swindell said many family members of those persecuted in China thanked her for her actions. the Chinese underground church, Tibetan groups, Falun Gong, Human Rights Watch and many others expressed gratitude. "I know my heart was in the right place," she said. "It was well planned, well thought out. I traveled to Beijing, China, to stand in solidarity with persecuted people of faith, political dissidents, victims of forced abortion and human trafficking and all whose human rights have been violated. I went to be a voice for those who have no voice. I went because I asked myself, 'What if it was me?'"
Mahoney said Swindell was the moving force behind the trip. "Brandi was moved to draw worldwide attention to these abuses," he said.
In response to the event President George W. Bush and the State Department gave very strong statements against China's human rights abuses. Swindell said there's still a lot of work to be done.
"Anyone who knows me knows that I'm a trustworthy and loyal person. It's sad that someone would make harsh and vindictive comments about someone they don't even know. As a society we should strive to rise above that kind of negativity. We should know how to disagree but value each other."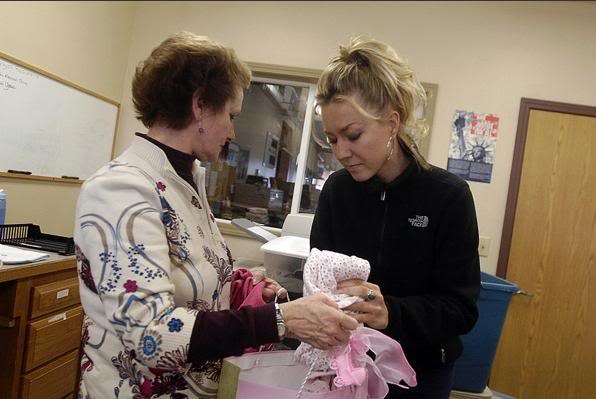 Brandi and a Stanton volunteer sorting clothes for clients and their babies.
Q&A with BrandiWho are your role models?
I'm motivated by my faith in Christ and to be Christ-like in all that I do, but I'm certainly inspired by some great role models. Martin Luther King Jr. and Elizabeth Cady Stanton, who was very outspoken and life-affirming in her fight for women's equality. They are people who have inspired me in the work that I do.
You and President Barack Obama have very different views on some issues. How do you feel about him being elected?
My heart is one of praying for President Obama. All of us can be proud of this historic time in our nation's history. I certainly have some significant concerns. I'm not opposed to Barack Obama; I'm opposed to his position and policies on abortion. My position is to firmly address those issues with Obama. It is my hope and prayer that this will be one of the best administrations we have ever seen.
How do you feel about being a public figure?
I never would have dreamed in a million years that I would be doing public speaking. I still get nervous when I speak, but I'm very comfortable now with the call that I believe was put on my life. I've made myself get comfortable with public speaking and with the media simply because my heart wants to get the message out about the plight of preborn children and to get the message out about post-abortive women who are exploited by the abortion industry … to share the plight of the persecuted people in China – all these different things that are incredibly important that we need to raise awareness about and get involved and advocate and be a voice and make a difference.
When you realize there's a bigger picture and there's a purpose and a call on all of our lives … once that light gets flicked on, I think one becomes relentless in their pursuit to make a difference. You roll up your shirt sleeves and you get in the trenches and you do what you can.
Have you ever been married or had children?
I have never been married and I have never had any children. I certainly look forward to the day when I find the right person and get married and have children. That will be a blessing.
Did you go to college?
No, but I'm thinking about earning a master's degree. I have worked and supported myself since I graduated from high school. I work very hard and have pursued nontraditional methods of getting an education. People need to be informed and educated, and there are many ways to be informed and educated.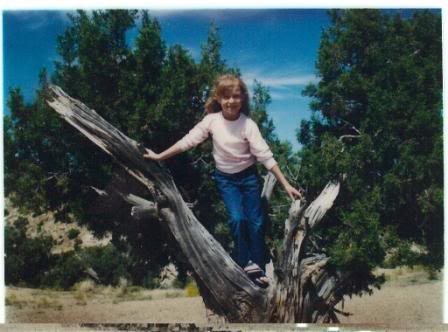 Swindell on a family camping trip in Idaho as a child. She said she loved exploring the outdoors and climbing trees.
"Brandi is passionate, principled, unwavering, standing on the strength of her convictions. She paints with bold colors, and I admire and respect that. I think a lot of Idahoans admire her for her courage and boldness." – Bryan Fischer, executive director of Idaho Values Alliance, co-founder of the Keep the Commandments Coalition of Idaho, and friend for 10 yearsNonprofit organizationsGeneration Life
Swindell co-founded Generation life, a national pro-life ministry, in 1999. "Generation Life was conceived on the streets of Dublin when we realized the need for more American youth to be involved in the pro-life movement," she said. The organization was started to mobilize the post-Roe-v-Wade generation at the local, state and national levels. Swindell says it is a grassroots movement of activists, students, artists, musicians and young professionals committed to ending abortion and spreading the message of sexual integrity. Generation Life raised financial support to give aid to an underground safe house for women fleeing forced abortion in China and to help a group that rescues babies that are left on the side of the road. Many babies in China are discarded because they are female or born with a disability. Generation Life has offices in Boise, Philadelphia, and Washington D.C
Keep the Commandments Coalition
Brandi Swindell and Values Alliance Executive Director Bryan Fischer co-founded the Keep the Commandments Coalition of Idaho in 2004.
Their goal was to keep the Ten Commandments monument in Julia Davis Park in Boise. The city moved the monument, and Swindell and Fischer lost the court battle that ensued. Swindell said 19,000 citizens signed the Keep the Commandments petition and more than 40 percent of Boise residents voted in support of placing the Ten Commandments in Julia Davis Park in the nation's first-ever vote on the public display of the Ten Commandments.
Stanton Healthcare
Swindell is the founder and president of Stanton Healthcare, a nonprofit pregnancy resource center that reaches out to women with unexpected or crisis pregnancies. "It's one of my proudest accomplishments," Swindell said. The clinic does not offer full-term prenatal care, but provides education, support and medical services to expectant mothers and women who have had abortions.
Pregnant at 18, Blair came to Stanton knowing she wanted to find an adoptive family for her baby. "They were so accepting here," she said. "It was a nice feeling because you're so vulnerable and scared." Blair was able to select her baby's adoptive family from an adoption agency's files and said she is happy how things turned out. Swindell said most of the women who come into the clinic are around 20 years old and any minors who come to the clinic are typically accompanied by a guardian.
Services are offered at no charge to clients who are served regardless of age, income, nationality, religious affiliation, disability or other circumstances. Clients are treated with respect, dignity and compassion in a confidential setting, Swindell said. Many women decide raising their child is the best choice and take advantage of parenting classes the clinic offers. "Women are beginning to realize that we can be devoted to our families and to our children and live purposeful and fulfilling lives. They don't have to sacrifice their children for success and happiness," Swindell said. For more information, visit
StantonHealthcare.org
.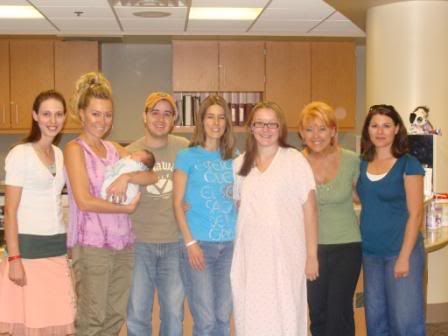 Brandi with Stanton client, adoptive parents, and staff
Melissa Brandi SwindellAge
: 32
Family
: Scattered all over Idaho. Mom and older sister live in Salt Lake City, Utah
Favorite bands
: Matisyahu, Jack Johnson, Beastie Boys, Alison Krauss, Madison Greene
Favorite movies
: Little Miss Sunshine, Slumdog Millionaire, Passion of the Christ, Napoleon Dynamite, Signs, Gran Torino
First dollar earned:
In high school I worked part-time at the family-owned-and-operated business Honstead Motor Co. and Home Centers of Idaho and did babysitting and housecleaning. My first job away from home was at the Hard Rock CafÈ in Maui.
Favorite subject in high school:
History
Interesting facts:
Born and raised in Boise
Fourth-generation Idahoan
Lifetime member of the Henry's Lake Foundation (A world-class fly fishing lake in Idaho)
Great-great-grandfather, George A. Day, was well respected as an Idaho state senator, chairman of the state GOP Committee and the first Idaho state land commissioner.
Featured speaker from America at the International Family and Life Conference in Dublin, Ireland, in 2006
Traveled to Washington, D.C., for the Inauguration of President Obama and the National March for Life. Spoke at the March for Life event with other national pro-life leaders, including Dr. Alveda King, niece of Dr. Martin Luther King Jr.
Part of a team that produced a documentary addressing the horror of human trafficking
Ran for Boise City Council in 2005 and lost
Hosted a radio show on a local Christian station
Coauthored book with a handful of local authors called "Don't Miss Your Boat: Living Your Life with Purpose in the Real World."
Hospital volunteer at St. Luke's Regional Medical Center in high school
Played volleyball and basketball in high school
Lived and worked in: Yellowstone National Park, Maui, Hawaii, New York, Washington, D.C.
Started three organizations: Generation Life, Keep the Commandments Coalition, Stanton Healthcare
Things I like to do:
Snowboarding, hiking, camping, fly fishing, traveling, enjoy music and going to concerts, spending time with family and friends in McCall, Stanley and Sun Valley, reading – continuously read several books at a time
Favorite food/restaurant:
Shige Japanese Cuisine in Boise. I love sushi.
"When I grow up, I want to be…": A cowgirl, when I was 4. For a while I wanted to be a dental hygienist, then I wanted to be a social worker. I had thought about going into journalism. By my late teens I knew I wanted to do something very purposeful with my life.
Greatest accomplishments:
My trip to China to stand in solidarity with the persecuted people of China, opening Stanton Healthcare (a nonprofit center that helps women facing crisis pregnancies), organizing the nations first vote on the public display of the Ten Commandments, mobilizing people to engage culture
Future projects:
Continue to build and develop Stanton Healthcare, The Birmingham Letter Project (an ongoing campaign to pray for President Obama and challenge his administration to stand for "social justice in the womb"), raise awareness and advocate for victims of human trafficking, consider involvement in public office, possibly earn a master's degree and I'm working on a new book
Lessons learned:
No matter how pure your motivation, some people will always say hateful and hurtful things. You have to learn to stay true to your core principles no matter what people say about you. God's love and grace are sufficient for all of us.
Any regrets?
No, nothing significant. I just keep moving forward.
Click Here
to see a Slideshow of Brandi Swindell from the Idaho Press Tribune article.
Click Here
to see a Video of Brandi Swindell from the Idaho Press Tribune article.
Source:Idaho Press Tribune – Cavalcade 2009